Basella rubra seed Malabar Spinach Ceylon Spinach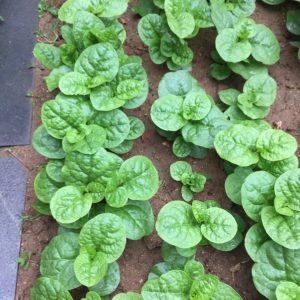 Malabar Red Stem Vine Spinach (Basella Alba), Non GMO, Heirloom, USA, FAST GROWING, FAST SHIPPING, 50CT.
Seeds are fresh, 10-21 days to germination. 1 package contains 50+ count seeds.
We ship in 1 business day. Shipped with USPS First Class Mail.
The Malabar Red Stem Spinach, also known as Ceylon, Vine Spinach, or Basella Alba Rubra, is a beautiful climbing spinach with bright red stems and glossy, edible leaves. This warm weather crop is a vigorous climbing vine and needs to be trellised. Use Malabar Red Stem's leaves and young stems in salads and stir-fries, or its red-purple juicy berries, as a natural colorant and flavoring. Malabar Spinach is an excellent source of Niacin and Zinc, and a very good source of Dietary Fiber, Protein, Vitamin A, Vitamin C, Vitamin E, Vitamin K, folic acid, iron, and calcium.
Species Spinach, Red Stem Malabar
Plant Size 7-8 feet tall
Days to Germinate
10-21 days
Days to Harvest
70
Germination Rate
85%
Test Date
8/21
Sunlight
Full Sun, Partial Shade
Seeds Packed For
2022
Planting Instructions:
This warm season Vegetable is frost sensitive and should be planted outdoors a few weeks after all danger of frost has passed. Start seeds indoors 6-8 weeks before last frost. Plant 1/4 inch in soil after all danger of frost has passed in Spring in at least 70F temperature soil.
Within-Row Spacing 18 inches
Between-Row Spacing 24-36 inches
Nutrition Facts:
Red Stem Malabar Spinach
Amount per 100 grams
Calories 19
% Daily Value*
Total Fat 0.3 g 0%
Cholesterol 0 mg 0%
Sodium 24 mg 1%
Potassium 510 mg 14%
Total Carbohydrate 3.4 g 1%
Protein 1.8 g 3%
Vitamin A 160% Vitamin C 170%
Calcium 10% Iron 6%
Vitamin D 0% Vitamin B-6 10%
Cobalamin 0% Magnesium 16%