Dianthus chinensis seed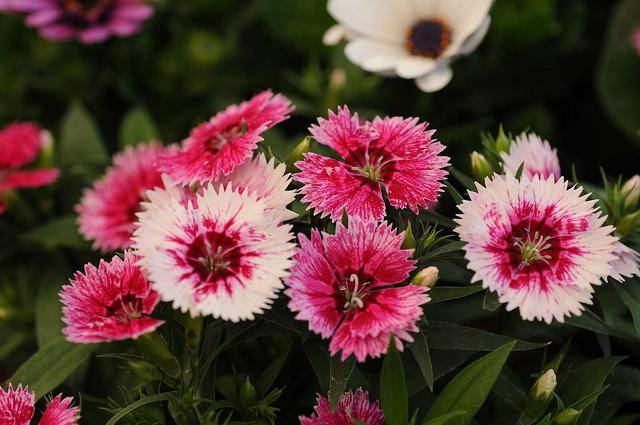 NAME: Carnation
OTHER COMMON NAMES: Double Dianthus
SCIENTIFIC NAME: Dianthus Chinensis
COLOR: Pink, red, & white double blooms
PLANT SEEDS: Outdoors after frost / Indoors weeks before last frost
BLOOM TIME: Summer – Fall (repeat bloomer)
HARDINESS ZONE: 6 – 9
PLANT HEIGHT: 12 – 16″
PLANT SPACING: 12 – 15″
LIGHT REQUIREMENTS: Sun
SOIL & WATER PREFERENCES: Average
Dianthus chinensis (china pink; chinese: shi zhu) is a species of Dianthus native to northern China, Korea, Mongolia, and southeastern Russia. It is a herbaceous perennial plant growing to 30–50 cm tall. The leaves are green to greyish green, slender, 3–5 cm long and 2–4 mm broad. The flowers are white, pink, or red, 3–4 cm diameter, produced singly or in small clusters from spring to mid summer.
It is widely cultivated as an ornamental plant, both in China and elsewhere across temperate regions of the world; numerous cultivars have been selected for garden use. In our opinion, the natural species has one of the most striking flowers and this is what is offered here.
Hardy in Zones 4 to 10, it is easy to grow from seed and will quickly establish itself. Open sown plants will Flower in the 2nd year, seeds sown under glass may flower the first year. Dead heading will encourage repeat flowering and prolong the life of the plant. They make ideal cut flowers. Full instructions for growing all wildflowers can be found at this link.