Saussurea involucrata seed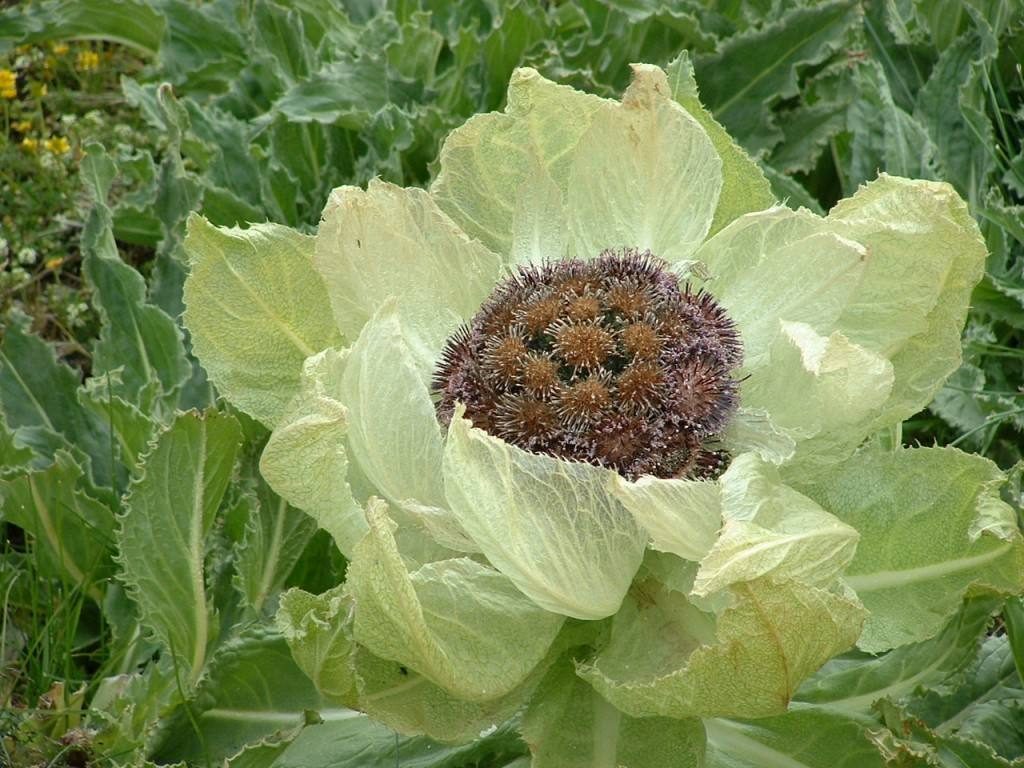 Saussurea involucrata Kar. et Kir. et Maxim.
Description
Saussurea is a genus of about 300 species of flowering plants in the family Asteraceae, native to cool temperate and arctic regions of Asia, Europe, and North America, with the highest diversity in alpine habitats in the Himalaya and central Asia. Common names include saw-wort and snow lotus, the latter used for a number of high altitude species in central Asia.
They are perennial herbaceous plants, ranging in height from dwarf alpine species 5-10 cm tall, to tall thistle-like plants up to 3 m tall. The leaves are produced in a dense basal rosette, and then spirally up the flowering stem. The flowers form in a dense head of small capitula, often completely surrounded in dense white to purple woolly hairs; the individual florets are also white to purple. The wool is densest in the high altitude species, and aid in thermoregulation of the flowers, minimising frost damage at night, and also preventing ultraviolet light damage from the intense high altitude sunlight.
Uses
A number of the high alpine Himalayan species are grown as ornamental plants for their decorative dense woolly flowerheads; they are among the most challenging plants to grow, being adapted to harsh climates from 3500-5000 m altitude, demanding cool temperatures, a very long (up to 8-10 months) winter rest period, and very good soil drainage in humus-rich gravel soils.
Scientific Name is Saussurea Involu, Cool Property, Low Calorie & Fat, with the Function to Clean Liver and Decrease Poison, Amend Guts and Supply Stomach, suitable for the person with High Blood-pressure.
Application:
a. Saussurea Chicken Pot
Recipe: Saussurea Involucrata-20 G
Black Chicken-1 Piece
Scallion-Some
Ginger-Some
Salt-Some
Sugar-Some
Oil-Some
Process: 1. Boil Black Chicken with water to eliminate the strange odd.
2. Heat the pot with oil
3. Fry Chicken with Scallion; Ginger; Garlic till fragrant
4. Apply Saussurea Involucrata
5. Apply water
6. Heat the dish for 45 minutes
First strong fire
Use middle fire after boiling.
Function: 1. Nourish Kidney to generate Vigor
2. Adjust Menstrual and generate blood
3. Amend Digest System
4. Balance Endocrine
5. Cool blood to remove freckles
6. Improve Physical Body
7. Enhance Body Defense System
b. Saussurea Involucrata Wine
Recipe: Saussurea Involucrata-10 G
Lycium-10 G
Cistanche-10 G
Yam-150 G
Pigeon-1 Piece
Sugar-Some
Oil-Some
Process: 1. Boil Black Chicken with water to eliminate the strange odd.
2. Heat the pot with oil
3. Fry Pigeon with Scallion; Ginger; Garlic till fragrant.
4. Apply Saussurea Involucrata
5. Apply water, Cistanche and yam
6. Heat the dish for 45 minutes.
First strong fire.
Use middle fire after boiling.
Function: 1. Nourish Kidney
2. Generate semen
3. Nourish Hepatic
4. Protect eyes
c. Saussurea Involucrata Wine
Recipe: Saussurea Involucrata-15 G
Lycium-3 G
Angelica sinensis-3 G
Cordyceps sinensis-6 G
Codonopsis pilosula-3 G
Strong Wine
(Rice Wine)
Process: 1. Apply all the material in Wine
(Apply crystal sugar)
(Sealed by mud)
Function: 1. Therapy to ED
2. Therapy to Metrorrhagia